Winners Stories
TellyBingo player from Dublin 8 scoops incredible €90,005 Snowball prize
It comes as tomorrow night's Lotto Jackpot rolls to a whopping €12 Million (EST)
A player from Dublin 8 has scooped an eye-watering €90,005 in the National Lottery Telly Bingo TV game this afternoon. 
The Dubliner scored the Snowball Top Prize worth €90,005 after matching a full house in 51 calls or less. The winning ticket was purchased in Londis in St. James's Hospital, Dublin 8.  
So far this year, there have been ten winners of the Telly Bingo Snowball prize sharing a combined total of an incredible €540,000, with this latest winner scooping the biggest Snowball prize of the year so far. 
Meanwhile excitement is also growing ahead of this Wednesday's Lotto draw (14th of June) as the Lotto Jackpot rolls to an incredible €12 Million (estimated), the biggest jackpot on offer so far this year.    
As we get closer to the draw, the National Lottery are reminding players that the cut-off time for ticket sales is 7.45pm on Wednesday evening and tickets can be purchased in-store, through the National Lottery app or at www.lottery.ie.   
A National Lottery spokesperson said: "Could tomorrow night's Lotto draw see a player scoop the highest jackpot of 2023 so far? A potential winner would also become the seventh Lotto millionaire of the year following four jackpot wins by players in Limerick (2), Dublin and Meath as well as two Lotto Plus 1 top prize wins by players in Kerry and Dublin. As the Lotto jackpot heads towards an estimated €12 million, excitement is building amongst players all over the country. We are reminding players that tickets can be purchased in-store, through the National Lottery app or at http://www.lottery.ie/."   
See below for roll call of Lotto millionaires for 2023: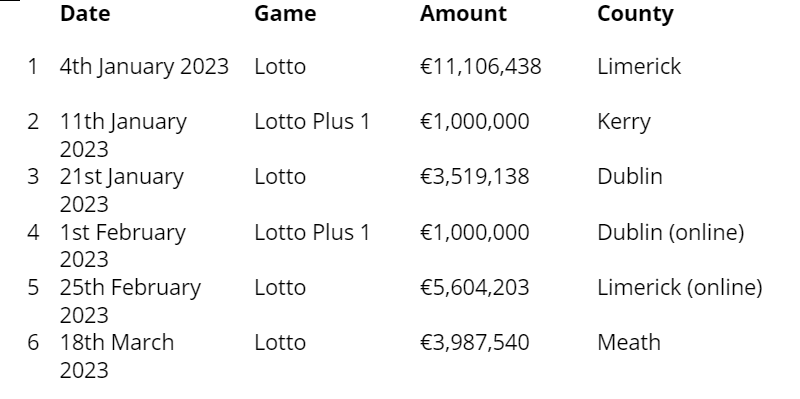 Nearly 30 cent in every €1 spent on all National Lottery games goes back to Good Causes in the areas of sport, youth, health, welfare, education, arts, heritage, and the Irish Language. In total more than €6 Billion has been raised for Good Causes since the National Lottery was established 35 years ago. In 2021 alone, €304 million was raised for local Good Causes in communities across Ireland.     

Play National Lottery games responsibly, play for fun.